Foster Care Training Partners
You can contact our partner agencies to learn more about their resources and services by clicking on their Logos below.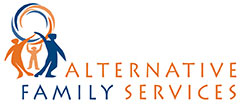 Alternative Family Services (AFS)
Alternative Family Services (AFS) is a foster, adoptions and mental health agency committed to fostering nurturing family environments within communities for children in need. AFS has been creating safe, permanent connections for foster children and youth in the Bay Area since 1978. AFS services focus on building sustainable relationships for children and youths in and out of foster care through supporting families at risk; creating permanency options for all foster children; providing mental health and other support to children, youth and their families; preparing foster youth for adult independent living; and responding to needs in the community as they arise.

Seneca Family of Agencies
Seneca Family of Agencies sustains children and families through the most difficult times of their lives. In many cases, we are the last hope for young people who have come to see failure and discouragement as a way of life. Here at Seneca, we offer each child a simple but profound promise: You will be supported every step of the way, no matter what challenges you face. By supporting each child and family in identifying and building upon their resources and strengths, we enable them to approach the future with renewed optimism and a stronger sense of the possibilities for creating a new and different story for their lives.